Archive of past years Trans Danube Swim
Trans Danube Swim is like flying an airplane. The dangerous part is departure and arrival. It's safe when you're flying. Here and there a little turbulence comes. But at the end, everything is all right.
You will enjoy the swimming the moment you find yourself in the water. That's when you forget all worries and realize the uniqueness of the moment. Bring a waterproof camera with you. Important note: If you are waving into the camera, our rescuers may evaluate this as a request for assistance. Please, be aware of this fact.
We will enter the water in several stages. TDS is the best cure for a better mood and health.
FIRST SUNDAY OF SEPTEMBER
We will meet by River Park at 13:00. (Map)
Around 13:15 we will hand over our personal belongings. At 13:30 a safety briefing will take place. We have an experienced team of rescuers, who have been with us since the first event.
A whole-life experience
The swimming stars at 14:00, we will get into the water in three stages. The first 50 meters swim at a 15-20% angle upstream. Then you can let yourself be carried by the stream. Breathe the wonderful scent of Danube and enjoy the experience. Gradually swim towards the other side. On the halfway, don't forget to look back. It will be the most beautiful view of Bratislava you have ever experienced. Swimming will take 15 to 25 minutes.
WE CONQUERED THE RIVER
Adrenaline is circulating in the blood and we have an incredible experience behind us. Now it's time to get out of the water, the most important part. Follow the people in front of you and stay 10-30 meters from the shore. Our team will help you to get out of the water.
ATTENTION: The pontoon is there only to help you get out of the water. Don't climb up on it and dont swim above it. The water is strong and it could carry you away. if you miss the first stairs, don't worry, there are other stairs only 5 meters away. Once you get out of the water, grab and elbow, not a palm.
WELL DESERVED CELEBRATION
Enjoy the feeling of crossed Danube with pride and have fun at your destination. From now on, you will perceive the Danube differently forever. Celebrate your success, have a beer and enjoy the view of the beautiful river. You deserve that wonderful feeling.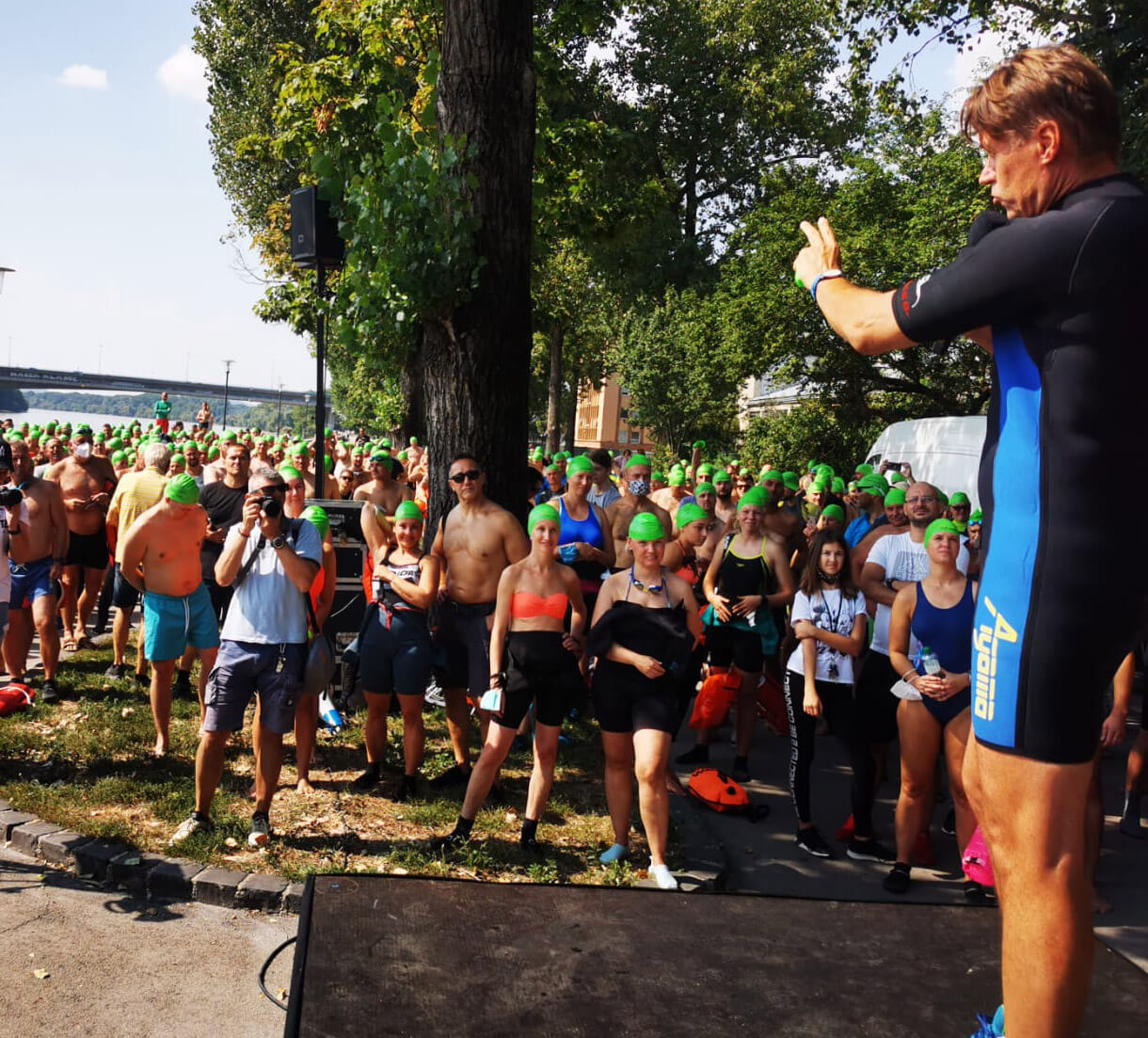 JOIN THE SWIMMERS
Are you afraid? Do you have doubts? It's normal. Adrenalin rushes into your blood. Today you are going to hunt experiences. The unique event of joint swimming across the Danube has been bringing our beautiful river closer to all residents and visitors for ten years. Join the swimmers who have been entering the waters of this beautiful river on the first Sunday in September since 2014.